Lean Kaizen in Supply Chain
"For Lean to be truly effective, it must focus not only on the manufacturing process, but on the entire supply chain."
Implementing Lean Kaizen in supply chain is very critical as it encompasses all activities related to procurement, logistics, supplier management and even customers that helps in creating a smooth flow of products down stream in the organisation.
Key task of Lean Kaizen implementation in supply chain is not only to reduce costs but also improving processes and productivity to increase service levels to the customer by eliminating non value adding activities and key wastes in systems and processes:
Reducing process lead time – excessive wait time

Eliminating unnecessary movement of products

Minimising excess inventory–raw material, work-in-process or finished goods

Reducing wastages in packaging

Reducing damages and spillages

Improving On-time delivery

Eliminating wasteful energy in supply chain including electricity, gas, utilties etc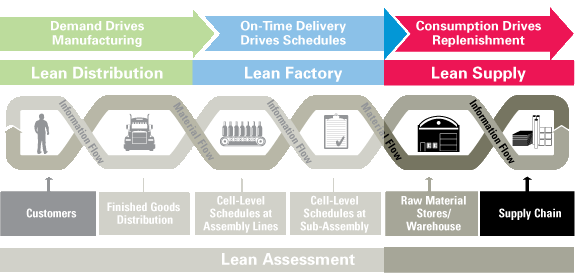 Leveraging continual improvement through effective Lean Kaizen tools can help drive breakthrough improvements in supply chain making it cost effective and efficient to meet the needs of the business.
We are global kaizen supply chain consultants offering Kaizen consultancy services across various industries in UAE, India and Africa. Our specialised Lean Kaizen Consultant can assist you on how Lean Kaizen can bring a difference in the supply chain management. Get Lean Kaizen expert in Supply Chain today!