Cost Reduction
Most profitable companies now are highly focussed on reducing costs by bringing effective ways of improving productivity & process efficiency. RIB Consulting brings innovative cost improvement Kaizen tools to increase profitability. We follow a customised approach of cost reduction for each of its client that includes:
Study P&L of our client in detail

Identify key high costs elements

Conduct root cause analysis on Major issues & inefficiencies

Implement Corrective & Preventive actions for improvement
Our clients with implementation of Kaizen techniques, in association with our consultants, have managed to reduce their key costs by 30-40%. We leverage Lean Management and Continual Improvement Kaizen tools and processes through our proprietary RIB Model that will help reduce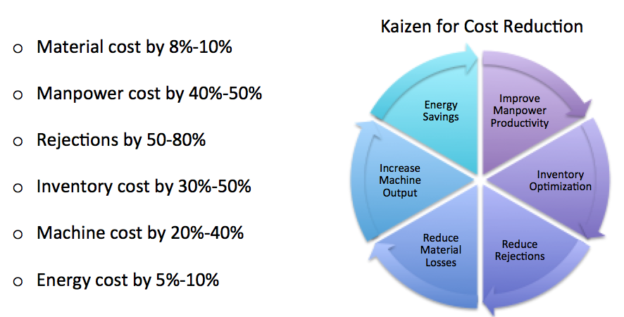 Some of the powerful Kaizen tools implemented are:
Energy Management to ensure effective energy consumption & minimise energy losses

Kanban, Inventory Management & Just-in-time (JIT) to reduce excess inventory & eliminate stock outs

Total Productive Maintenance (TPM) & Reliability Maintenance to increase machine output & Overall equipment effectiveness (OEE)

Line Balancing & Cellular Manufacturing to increase manpower productivity
By partnering with us, our clients are able to reduce costs and leverage gains for longer-term profitable growth.
View Cost Reduction success story of largest manufacturer of plastic bottles in Kenya>